The technology
The patent
In a few sentences we describe how our technology works.
By modifying the rear hull, an improvement in hydrodynamics is achieved. The advantages of the water flow towards the propeller are caused by a hydro-mechanical effect that creates further synergies.
Due to the special shape of the semi-circular form at the bottom of the ship, the applied pressure is directed and accelerated by the indentation. This reduces energy losses and optimises the flow pattern at the side lines (rear shoulder) and stern.
Due to this precisely calculated system, the flow of water towards the propeller and rudder is much better. The propeller has more pressure, especially in the 12 o'clock position, and can generate more thrust overall at less

RPM

of the main engine.
The new propeller and rudder setup also allows the rudder to be more efficient in improving the wake flow. This holistic innovative approach delivers the optimum in technological improvements to already optimised designs.
The Impact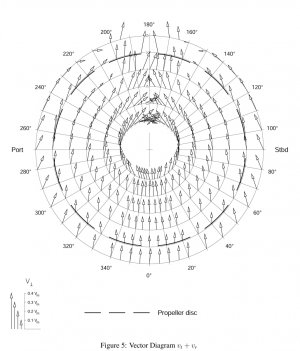 Advantages of the Patented Hull Lindinger are:
Fuel reduction of up to approx. 10% in regular operation
No direct investment costs for the ship owner
Favourable licence fee with short period of payment, financed with the fuel savings
No additional maintenance costs during operation
No restrictions in cargo volume and at the same time better ship performance while in service
Improved efficiency of the propeller due to reduction of suction coefficient and reduction of slip
More favourable propulsion technology possible
Compliance with all new environmental regulations due to

EEDI

Reduced vibration and noise of the main engine
Active cost reduction due to synergy effects
Functional for all semi-glider and displacement hulls
These advantages can be implemented with all propulsion systems and are suitable for all common ship types. This also applies to inland and cruise vessels (as well as to navy vessels).
Performance improvements are achieved across all speed and draught parameter variations without being exposed to the negative characteristics of ESD.
The results
Test runs at the Vienna Ship Model Basin (VMB)
Results with stock propeller for low speed container feeder vessel.
Relaxation of pressure volume at hull bottom
Projekt BC 76k, "Owner's best design 2021" – LR-Shipdesign AG- Tanktest summary
Panmax class
Sequence
6
7
9
list and result

HSVA

Hamburg
Date
20.10.2021
21.12.2021
24.06.2022
Task Type
Tanktest
Tanktest
Tanktest
Host

HSVA

HSVA

HSVA

Hull lines
Best design Owner
LR-V 11.5
LR V 11.5+
Propeller
D=7 m Owner
D=7 m
D=7 m Design LR
Ruder
Best design
Best design
Design LR
Resistance 13 kn
3862 kW
3745 kW
3709 kW
Propeller Efficiency 13 kn
0,706
0,703
0,726

ETAD

rpm
83,3
80,1
80,9 (80,2)
Delivered Power 13 kn /kW
5468 kW
5331 kW
5106 kW
Remarks
Test values of the original best design determined in the

HSVA

as a benchmark
Evaluation of propeller geometry to increase efficieny-hull/propulsion. Beginn rudder/propeller optimization
Test drive with maximum optimization through

AFT

OPT®, evaluation of further improvements
Main engine room customized with coordination Owner/MAN (like V 11.2)
Panmax Bulker